LightForce Laser Therapy in Bakersfield,ca
Deep Tissue Laser Therapy
Deep Tissue Laser Therapy is a scientifically proven way to reduce pain and inflammation
Treatments are fast, safe, painless and most patients experience results after only a few sessions. DTLT allows for deeper tissue penetration, resulting in fast, efficient and consistent results. Deep Tissue Laser Therapy™ treatments are administered in as little as 4 to 10 minutes. LightForce® is the preferred brand of professional athletic trainers.
Deep Tissue Laser Therapy™
Laser therapy generates a photochemical response in damaged tissue by a process called photobiomodulation. This process stimulates healing on a cellular level by enabling cells to produce energy (ATP).
Acute Conditions
It is known that laser therapy can be very effective in treating acute conditions. The quick relief from pain makes it easier to continue with your healing process, which often leads you to have better outcomes overall!
Chronic conditions
Laser therapy is an effective, non-pharmaceutical solution for reducing pain without the side effects of medication. It can help combat persistent discomfort and promote circulation in tissues damaged by chronic conditions like arthritis or joint disease.
Surgery Free
Avoid surgery and the time associated with post-op healing.
Drug Free
Manage your pain without the use of expensive prescription drugs.
Fast Acting
Quicker recovery times with laser therapy so you can return to the activities you love.
LightForce is the clear leader in providing the most advanced laser therapy products. Focusing on the therapeutic and pain management markets, LightForce offers innovative technology to all who are involved with musculoskeletal rehabilitation and pain.
Light Force offers superior solutions, developed by the most experienced laser scientists and engineers possessing a strong history of designing and manufacturing. Drug-Free, Surgery-Free, Pain-Free Relief.
It is known that laser therapy can be very effective for treating acute conditions. The quick relief from pain makes it easier to continue on with your healing process, which often leads you having better outcomes overall!
Post-Activity Recovery
 LightForce Therapy Lasers have been used by many pro, college and Olympic sports teams across the United States to help their players recover faster after games. The therapy is proven effective at reducing Delayed Onset Muscle Soreness (DOMS) as well!
TMJ

Neck Pain

Shoulder Pain

Elbow & Joint Pain

Fibromyalgia
Low Back Pain

Sciatica

Arthritis

Sports Injuries

Soft Tissue Damage

Plantar Fasciitis
For more information about laser therapy, please visit lightforcemedical.com
Do your doctors only adjust the spine?
No, they do not. We are a multidisciplinary facility. We treat not only the spine, but every joint of the body. We also treat soft tissue issues that do not refer to the spine as well. Different parts of the body can be helped through spinal and joint manipulation. Our doctors use the latest techniques in their field to relieve the pain as quickly as possible. Our team provides top-tier care for our patients.
Other than the spine, we treat: shoulder, elbow, wrist, hand, hip, knee, ankle & feet pain/injuries. We also treat personal injury/auto accidents, and workers' compensation cases.
Do you provide treatment during the initial visit?
Yes, we know that most of the time when a patient comes into our office they are in pain & in need of same day treatment. Our overall goal as a facility is to determine the problem generator, treat the area of complaint/source of pain, and see patients for follow up visits as needed.
What services does your office offer?
Active Life Medical & Wellness is a state-of-the-art multidisciplinary medical, chiropractic, physical therapy, and pain management facility serving patients of all ages in Bakersfield.
-Chiropractic (manual/activator)
-Physical Therapy
-Trigger Point Injections
-Manual Therapy
-Massage Therapy
-Soft Tissue Therapy
-Myofascial Release/Graston Technique
-Rock Taping
-Cupping
-Weight Loss Program
-Testosterone Program
-Sports Related Injuries
-Personal Injuries/Auto Accidents
-Workers Compensation
-Pregnancy Treatment
-Infant/Child Treat
-Tongue Tied Baby
-Muscle Stimulation
-Ultra Sound/Cold Laser Therapy
-Class IV Laser Therapy
What is the benefit of being seen at your office?
Relieve pain
Correct your body's alignment
Reduce reliance on opioid pain relievers
Ease headache pain
High satisfaction
Help improve posture
Help athletic performance
Improve digestion
Improve immune function
Healthier pregnancy
Better balance
Improve range of motion
Lower blood pressure
Better sleep
INSURANCEs ACCEPTED
*Kern Healthy Families only accepted for Physical Therapy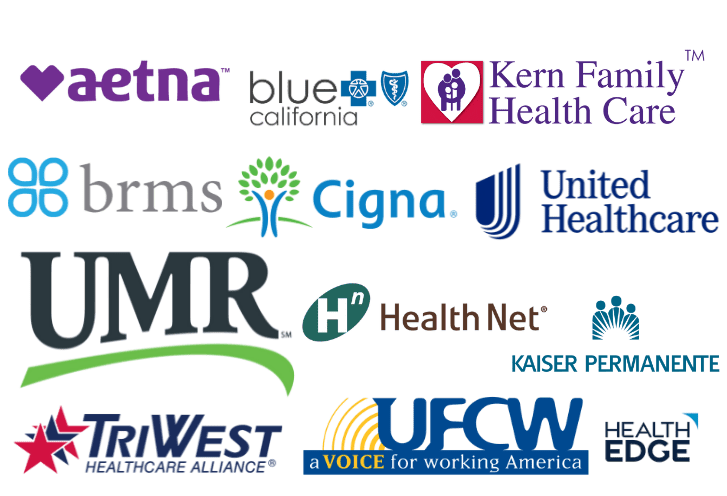 Message Us
Get in touch below. Ask any question.
Same Day Appointments
Are Available

Office Location
3015 Calloway Dr D6, Bakersfield, CA 93312
Open Hours
Monday - Friday: 8AM - 6PM